Tablet, ipad & iphone, android
Tablet, ipad & iphone, android
iOS / Android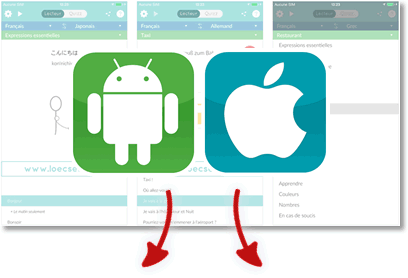 USER REVIEWS (iOS & Android)
Janey Chavalit
☆☆☆☆☆
Great App 5 stars.. Love it. It can be useful in multiple ways: learn new language, help you to communicate when go to new country, practice pronunciation, and etc. My hus can learn my language while I can learn another new launguge and my parents can use this app to communicate with my husband. Love love love it
Blackguard 404
☆☆☆☆☆
Wtf How could i not have found this app sooner. Epic
Frederik Hulgaard
☆☆☆☆☆
LOVE IT! It's surprisingly easy to use, the recorded voices are so easy to understand, and my Croatian girlfriend is loving how fast I catch on! Thank you!
Scott Robertson
☆☆☆☆☆
First app that I have ever been able to give 5 stars too well worth it
maria natzel
☆☆☆☆☆
Totally free this is an very easy and totally free app with many different languages to chose from. Great for my kids too!!
Jewlya Dunkins
☆☆☆☆☆
Wow This is a wonderful reference guide to sentences and saying needed quickly!
☆☆☆☆☆
Excellent It has an excellent translation for most of the things. I'm very greatful I hope people would support more and promot this Great app!! ☆☆☆☆☆
Giselle Gaitan
☆☆☆☆☆
So useful! You can find many languages here! It helps a lot with basic phrases, ideal for short travels.
Janey Chavalit
☆☆☆☆☆
Great App 5 stars.. Love it. It can be useful in multiple ways: learn new language, help you to communicate when go to new country, practice pronunciation, and etc. My hus can learn my language while I can learn another new launguge and my parents can use this app to communicate with my husband. Love love love it
Sai Gourang
☆☆☆☆☆
Great app Amazing app....allows downloading the audio phrases for use in offline mode also....loved it..
Cyhra Charisma
☆☆☆☆☆
Easy to learn Good 👍 the best!